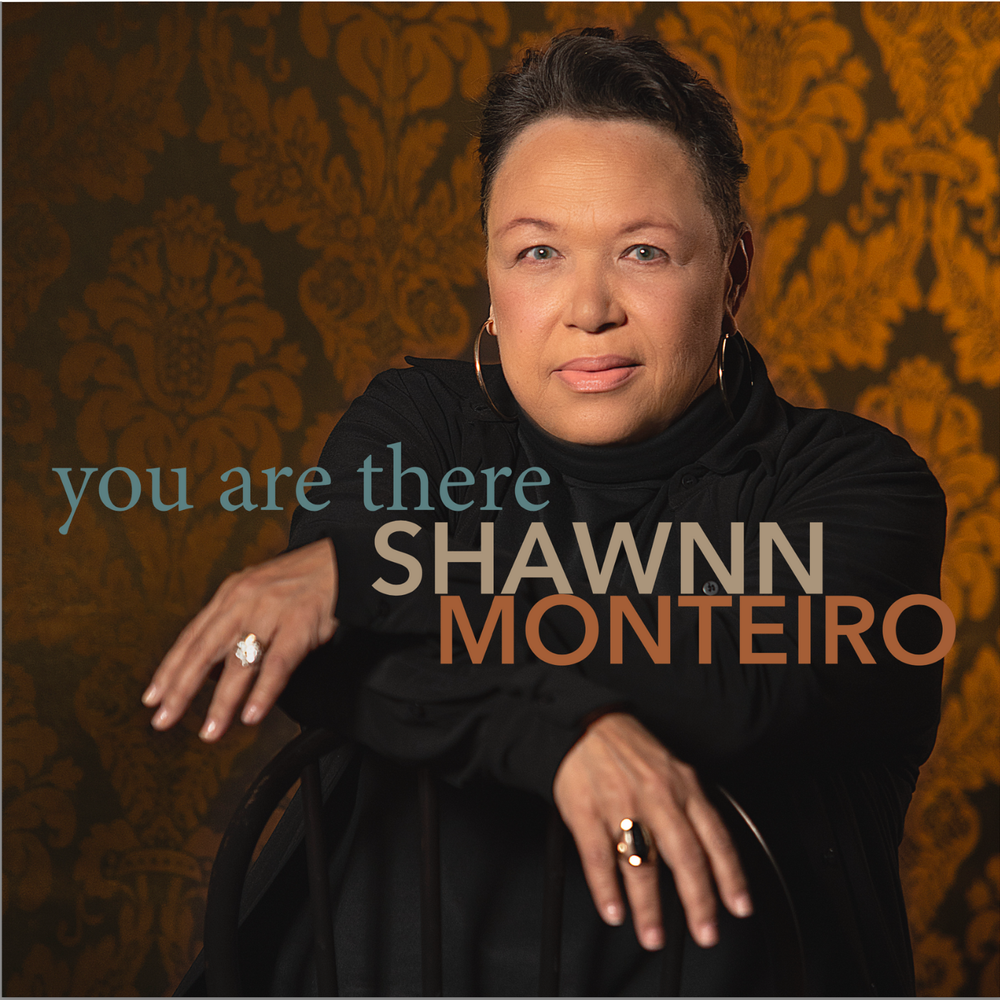 THE PATRIOT LEDGER Jan 4 2022
Let's take a look at the best jazz albums we heard in 2021. With the abundance of musical talent and music schools in New England and the Northeast, we surely have a wonderful stock of regional talent. Many of the artists this year worked off themes of emerging from the pandemic, in especially joyous music. Jazz is a continuum, like any music and 2021 saw several artists use the music of past masters to offer a fresh look forward. This week we salute six albums that re-interpreted timeless music and next week we'll look at the best jazz records of new, original music.
"YOU ARE THERE" by SHAWNN MONTEIRO (Whaling City Sound) Vocalist Monteiro has retired from teaching at the Jackie McLean Institute of Jazz at the Hartt School in Hartford and has also taught at Providence College and Rhode Island College. Half of these 12 tracks feature her usual pianist Mike Renzi, while the other half feature Kenny Barron with a core quartet and horns added to about half the tracks. Monteiro has chosen an eclectic collection of covers. The swinging "Let's Eat Home" takes on a definite pandemic-inspired comic tone while her confident command of "Autumn Leaves" benefits from the way Barron embellishes the melody. "The Shadow of Your Smile" gets a vivid updating and Neil Sedaka's "Alone At Last" swings with a gentle samba feel. Monteiro's tone is remarkable throughout, with a smoky sensuality that makes each song feel intimate.
PRESS REVIEWS
"

You Are There showcases the lush jazz singing of Shawnn Monteiro, supported by masterful performances of associates on trumpet, piano, trombone, drums, and bass. The charged, intensely passionate music crested with dulcet beauty of Monteiro's vocals makes You Are There a rapturous listening experience, highly recommended especially for connoisseurs of the genre. " - James A. Cox Midwest Book Review
Neon Jazz Interview with Joe Dimino
Joe Lang, Jersy Jazz 
 No matter how long one listens to the releases that come in the mail for review, it seems like one comes along by an accomplished artist who has been on the scene for quite some time and has somehow escaped the attention of the listener.  For me, vocalist SHAWNN MONTEIRO is such a talent.  Upon listening to her new album, You Are There (Whaling City Sound – 128), it was apparent that this is a lady who is a first-rate jazz vocalist.  The album was recorded at sessions spread over six and one-half years.  In September 2014, Monteiro was joined by pianist Kenny Barron, bassist Nat Reeves and drummer Joe Farnsworth for seven tunes, with trumpeters John Allmark and Josh Bruneau, and trombonist Steve Davis adding occasional contributions.  The remaining five tracks found her in the company of pianist Mike Renzi, bassist Dave Zinno and drummer Steve Langone, some recorded in July 2019 and others in March 2021.  The one constant is the engaging vocalizing of Monteiro.  Whether caressing a ballad like "Inside a Silent Tear" or "You Are There;" taking "Dearly Beloved" or a medley of "I Hear Music" and "How High then Moon" for a rhythmic ride; lending a bluesy tinge to "You'll See" or gently swinging "The Shadow of Your Smile," Monteiro is right on target.  All in all, Monteiro has produced a winner!  (www.whalingcitysound.com)
Scott Yanow, jazz journalist/historian
Shawnn Monteiro 
You Are There 
(Whaling City Sound) 
            Shawnn Monteiro is a veteran jazz singer whose conversational storytelling style and phrasing sometimes recall Carmen McRae a little although with her own musical personality. She was discovered early on by Mongo Santamaria, working in his band for two years before launching her solo career. Ms. Monteiro made her recording debut in 1993 and has since led six albums (including three for the Whaling City Sound label) with one of the highpoints being 2002's One Special Night. In addition to teaming her with flugelhornist Clark Terry and drummer Jimmy Cobb, that album had her accompanied by her father, bassist Jimmy Woode, who is perhaps most notable for his important stint with Duke Ellington. Her new recording You Are There is dedicated to her father. 
            This set has the singer joined by two world-class rhythm sections. The first six songs feature the recently deceased pianist Michael Renzi (a master at accompanying singers), bassist Dave Zinno and drummer Steve Langone while the second half of the set has pianist Kenny Barron, bassist Nat Reeves and drummer Joe Farnsworth. Trombonist Steve Davis is a major asset on a few of the numbers while trumpeters John Allmark and Joshua Bruneau also have their moments to shine. 
            Shawnn Monteiro, who explores both familiar standards and a few superior obscurities, has a mature voice, a deep understanding of the lyrics that she interprets, and a solid sense of swing. She begins the program with a joyful version of "Dearly Beloved," puts plenty of quiet feeling into Blossom Dearie's "Inside A Silent Tear," and is in top form on a contrasting pair of Dave Frishberg songs: the whimsical "Let's Eat Home" and the emotional ballad "You Are There." Renzi contributes some sparkling piano to a medium-tempo "How Deep Is The Ocean" and both the singer and trombonist Davis sound beautiful on "You'll See." 
            The music stays at a high level during the second half of the set. "The Shadow Of Your Smile" has some fine scat-singing and trombone work; their interplay is one of the set's highlights. On "Autumn Leaves," Shawnn Monteiro begins singing the verse as a duet with Barron, states the melody with the trio for a chorus. and then in the second chorus really displays her jazz phrasing, perfectly placing her notes without losing the words or the melody. A light bossa rhythm, a fine trumpet solo and the leader's warm singing uplift the lesser-known "Alone At Last" and she follows with a personal version of "Never Let Me Go." A cooking "How High The Moon" is sandwiched by "I Hear Music" before the set concludes with "My Old Friend," a heartfelt tribute to a close associate. 
            You Are There is an enjoyable and easily recommended set full of first-class singing that features Shawnn Monteiro in top form. 
Scott Yanow, jazz journalist/historian